Concert Review: The Lymbs, Kinky Fingers, and more at Ghost

Ever go through a rough patch when you listen to so much metal that eventually nothing is heavy, brutal, fast, or fucked up enough to impress you? This has been my plight recently, and this show was the perfect palate cleanser to neutralize my tastes. Although this concert was neither heavy nor metal, there was enough variety to keep me hooked. Surf rock, blues, jazz, folk music, and a plethora of other genres defined the night. Here's what went down: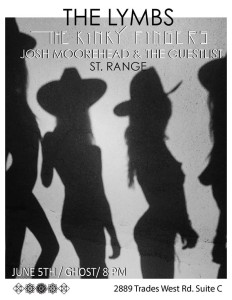 The Strange sounded good, even though only half the band was there. (The other two were out of town, apparently.) Drummer Braden Anderson provided a solid backbeat, while Justin Lindsey fronted on both rhythm guitar and vocals. Even without a bassist or second guitarist, they had a "bare-bones" appeal. At first I thought that that "St. Range" was a typo, until I started thinking on the same level as whoever made the flyer. That is to say,  I got drunk as fuck and realized that only half the band performed, therefore they only needed half the band name on the flyer. Actually, no, that still doesn't make any fucking sense.
Josh Moorehead And The Guestlist  were up next. In general, I'm not a fan of brass instruments. However, I have always been drawn to the sultry sound of saxaphones, and the trumpet brought some bombast to an otherwise mellow, earthy sound. A little bit country, a little bit bluegrass, folksy and jazzy all at once, this band definitely delivers. They were loyal to the traditional structure of the 12 bar blues for the most part, with only the occasional deviation.
The Kinky Fingers were the penultimate band. As a metalhead, I'm used to band names like Anal Cunt and Reinsertion Of Aborted Remains. Even so, the name Kinky Fingers makes me so uncomfortable that I had to cross my legs during their performance. The music itself was very laid back and down-to-earth, while still embodying the sexy swing of rock n' roll. The guitar riffs had a certain twang that lends itself to both surf rock and country music, while the drums and vocals were more bluesy.
The Lymbs were a fantastic closing band, ending the show on a very strong note. They were extremely energetic, especially with the raucous, intense drumming. I also liked the rowdy, screamed vocals, while the guitar and keyboard were more low-key.  For a two-piece band, they sounded absolutely behemoth. They were upbeat and lively without sounding too bouncy or poppy.
Overall, the show was very solid, and each band brought something different to the table. Three stars out of five!