Concert Review: Hellfest 2014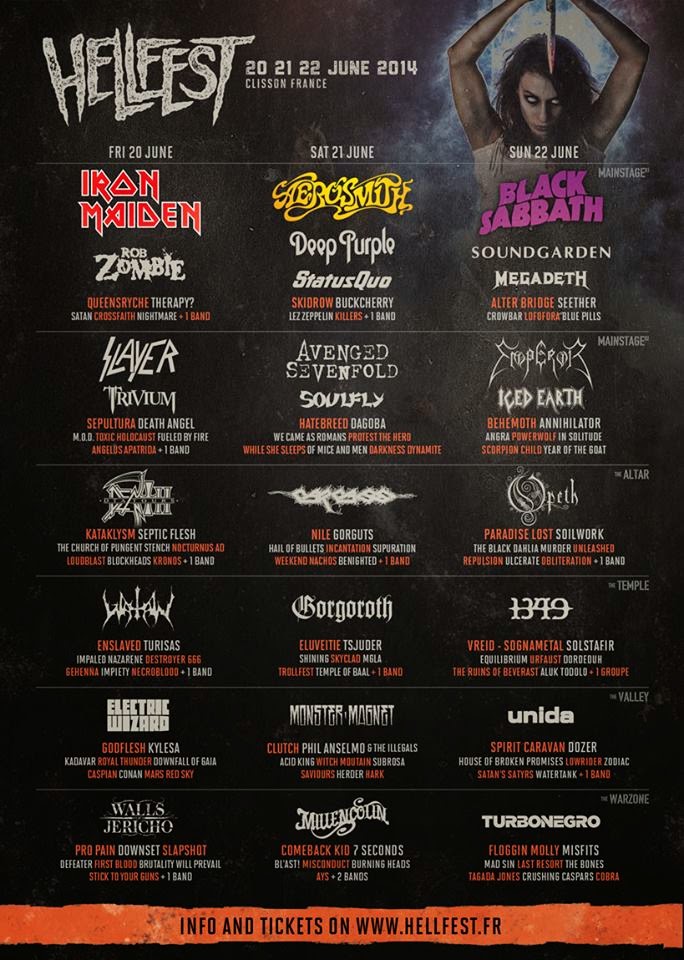 For three days a year, the sleepy little town of Clisson in the French countryside is completely invaded by metalheads from all over the world. This is Hellfest, a metal festival that exploded from obscure beginnings to a world renowned event. This was my first time attending, but definitely not the last. My perception of music, society, and even time itself is irreversibly altered. Here's why:
1. The Stages
The mainstages were reserved for the likes of Slayer, Iron Maiden, Black Sabbath, and Sepultura. Admittedly, some of the bands (even headliners) were past their prime. As much as I hate the phrase "washed up", you can't be something you're not. Aerosmith was disappointing, even when heard from a distance.  I didn't even give Black Sabbath or the remains of Slayer a chance to break my heart. However, the main stages redeemed themselves with Iron Maiden, Sepultura,  and Behemoth, but more on that later.
The Altar and The Temple were adjacent stages which featured various subgenres, from metalcore like Soilwork, to the symphonic brutality of Septic Flesh, to the folk metal stylings of Eluveitie. I was impressed with most bands who performed there, excepting Opeth, who failed to live up to my already low standards. The one song that I enjoy, The Devil's Orchard, was the first on the butcher's block. Like the Misfits show, the audience was densely packed with die-hard fans who stay loyal to their favorite bands, even when they suck.
The Warzone was an apt title for the punk/grind/hardcore stage. The moshers were berserk, and the music was unrefined, unpretentious, heavy shit. This was the kind of refreshingly honest hellhole that you visit with like-minded psychos who want to punch each other in the face and get sand in crevasses you didn't even know you had. It was fucking amazing. The sole disappointment was The Misfits' set. Like Opeth, this show was overcrowded with fans like myself who were trying desperately, albeit in vain, to enjoy the show.
The Valley tended to showcase doom, sludge and stoner metal.  The occasional deviation from these genres included acts like Godflesh, Clutch,  and Phil Anselmo And The Illegals (who blew my mind, by the way.) For the most part, however, this is the stage that hosted Electric Wizard, Spirit Caravan, Dozer, Kylesa, and other deliciously slow, heavy, yet ethereal bands. Even if you missed a set, you could still enjoy the smoke billowing out from within the performance space.  It was almost like headbanging in a bong.
2. The Bands:
Eluveitie was hands-down the best performance I've ever seen. Not that their theatrics were especially impressive (typical flashing lights and headbanging on stage), but the overall sensory experience was sublime. Every salty-sweet aroma of sweat, beer, and blood, every infinitesmal visual nuance, and every tactical sensation of hair swinging and bodies slamming was absolutely magnificent.  Their set featured the first wall-of-death I saw at Hellfest, and the only one in which I participated. Those were the sweatiest dudes ever, and few of them were fully clothed. At the risk of sounding nasty, that was one slippery pit. That was also my first time to be thrown over the rails while crowd surfing. Words cannot describe my confused euphoria.This was the kind of show in which the mob-mentality prevails and the collective is greater than the sum of its parts. I strongly believe that everyone who walked out of the tent after the performance (including the band members themselves) left with more than they had when they entered.
But enough of that esoteric nonsense. Behemoth kicked my ass. I was close enough to the stage that getting set on fire was a legitimate concern. Sadly, however, I wasn't close enough to touch Nergal and gain his powers. I pop up occasionally in the official video, but ultimately I was just another voice screaming in unison and a pair of devil horns lost in the crowd. When the set was over and the crowd dispersed, I saw one unfortunate individual bleeding profusely from the head. He was only one of many. Yeah, it was THAT good.
Iron Maiden was another exceptional show. Bruce Dickinson's voice can project as loud as ever, and there's nothing like seeing Eddie in person. The setlist included classic favorites such as Aces High, The Number Of The Beast, Run To The Hills, The Trooper, and Fear Of The Dark. My only complaint is that there were no deep cuts: I would kill to see a live performance of Rime Of The Ancient Mariner, or at least Montsegur.
Derrik Green of Sepultura is another astounding vocalist. He doesn't even have to do the whole "growl from the lungs" thing like the rest of us; that's just his normal voice. He could say something innocous like "Pleased to meet you" and you would think you're conversing with a demon. His effortlessly deep growls, accompanied by Death Metal riffs and Sepultura's signature drumbeats and bass-lines, augured for one hell of a concert.
Septic Flesh was almost too perfect. With only minor discrepancies, their live show was virtually identical to their studio recordings. Although they obviously used pre-recorded symphonic samples, I was nearly suspicious that the whole show was lip synced.  But then again, with symphonic metal as well-composed as theirs, perhaps there is simply no room for improvisation, not even during live concerts. Every single note, rest, melody, and harmony, had to be precise. So hopefully they didn't mime the whole thing, and they just happen to put on an incredible show. Plus, Spiros Antoniou is a bodacious babe, so I would probably forgive them anyway.
Traveling all the way from California to play at Hellfest, House Of Broken Promises was a spectacle to behold. Loud, tribal, almost primitive drumbeats carried most of the songs forward, while the riffs and vocals were more forgettable. That's not to say that the music was bad: The melodies were very catchy and chock full of hooks, but it didn't stand out from the hundreds of similar bands. Despite these shortcomings, they were still a great band to see on stage, and the crowd went fucking nuts for them.
I saw many more bands, but the main ones really worth mentioning are Soilwork, 1349, and Phil Anselmo and the Illegals. I only caught the last handful of Soilwork, but even those few minutes were enough to distinguish them as an exceptional live band. Their unbridled energy is contagious, and everyone in the audience was moving. 1349 was delightfully evil, and Phil Anselmo still sounds on top of his game. I only caught snatches of  Death and Nile,  but Death wasn't playing their heaviest and I really had to pee during Nile. I also missed Skid Row, Carcass, Dark Angel, and Ulcerate, but I'm sure they were all incredible. Megadeth and Iced Earth were M.I.A, probably because both bands are fronted by douchebags. Otherwise, the rest of the bands made delightful background noise while I stood in lines for various necessities such as food, beer, and wine.
3. The People
Needless to say, many people went to Hellfest dressed in costume. Amongst many other beloved characters, I saw Batman, The Joker, some dinosaurs, an old dude in a thong, several glam rock skanks, and our Lord and Saviour Jesus Christ. I even saw Spongebob Squarepants stagediving. Otherwise, most of us were wearing our usual uniforms of denim and leather. Everyone was clad in Doc Marten's, Converse, camouflage,  studded belts, fishnets, and Slayer or Iron Maiden T-shirts. I especially enjoyed it when hot people took off their shirts, oh yeah, baby, oh yeah.
Speaking of hot people, I wonder what happened to that gorgeous French metalhead who I almost seduced. I like to think that he was intimidated because he thought I was out of his league, but it's far more likely that my stench fended him off. Stupid, sexy Leo. Call me.
I also met this crazy stoner who is obsessed with wolves, and a cool Portuguese guy who is obsessed with whiskey. I hung out with miscellaneous circles of nice people, and I felt comfortable with just about everyone there. This was very unlike the American concerts I'm used to attending, wherein you can get attacked by a raging tweaker or junkie at any given moment. No actual fights broke out, no females felt threatened or unsafe, and everyone pretty much just partied in good spirits and saved the violence for the pit.
Even the bands aknowledged the  almost tangible sense of comraderie that we all felt. Frontmen would make such  announcements as "This is dedicated to each and every single one of you", "Metal is not only the best music on the planet, but we're also a family" or "We all sing this next song together."  Everyone knew that we were surrounded by our own kind, and it was pretty damn satisfying. Even as a stranger in a strange land, I had never felt so accepted for who I am.
And now of course,  I must extend a special thank you to the good friends who took me out to the show to begin with. I couldn't ask for better partners in crime, and I can't wait to see you all next year. You know who you are. You gave me the best week of my life, and for that, I am sincerely grateful. I hope you enjoyed my company as much as I enjoyed yours.
To everyone else: May these writings convince you to join me for Hellfest 2015, and Clisson, France will be our stomping ground once again. Five stars out of five!