Concert Review: Metal Monday At The Underground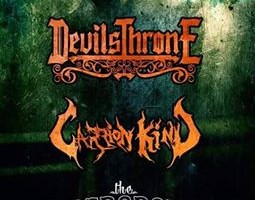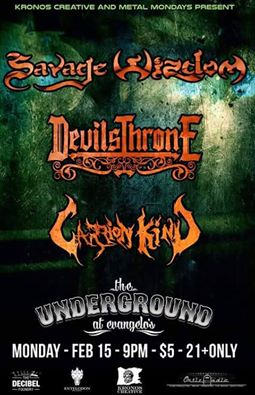 While respectable members of society are loosening their ties and resting before another workday, the metalheads come to Evangelo's to play. What mischief and mayhem transpires on such a night? Here's a brief recap:
Carrion Kind were a fantastic opening act. With it's insanely catchy guitar riff, Memoirs Of A Lost Civilization is inevitably the first in their setlist, and until recently was the strongest in their arsenal.  But hark, what noise through yonder speaker breaks… Is that new material?  In addition to fan favorites from their debut, The Collapse Of All To Come, Carrion Kind are armed to the teeth with hitherto unheard crushing solos. Of course, they still play tried and true crowd pleasers such as the fittingly titled Programmed To Be Unforgiving. Their signature blend of thrash and death metal is full of energy and aggression.
Devil's Throne are an anomaly in the metal world. In an industry dominated by ugly dudes with no talent, this band boasts a hot chick with skills to spare. The sound is very atmospheric and doom-centric, with an emphasis on black metal style vocals, which are very haunting. The guitar and drum riffs are very repetitive and drony, but this builds a solid backbone for the ambient leads.
In a line up comprised entirely of musical badasses, power metal champions Savage Wizdom were worthy headliners. They performed many of their early songs from their debut album, No Time For Mercy. Many loyal fans recognized Behold, Spellbound, and Nosferatu. The triumphant guitar riffs pair well with lead singer Steve Montoya's panoramic voice. His son, Steven Montoya, is also a very capable singer, who is able to hit high notes rivaling the likes of Helloween. Their music is very heavy, yet strong and upbeat.
Overall, the show was very enjoyable, full of variety and complexity. The crowd was good company, even  that one jackass who spilled his cheap beer all over everyone in a 5 foot radius. Not bad for a Monday night. Three stars out of five.