Concert Review: Serial Hawk, Ghosts Of Glaciers, and more at The Cave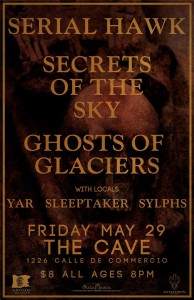 Great news! I finally regained enough motor skills and hand/eye coordination to type again. The way things went down last night, I'm surprised there were no fatalities or other collateral damage. As a survivor, I am obligated to give a first-hand account from the eye of the storm…
Sleeptaker has a new line up, apparently.  Alex Monasterio, the former guitarist, is carving a name for himself as a damn fine vocalist.  Noah Trainor, the only other original member,  retains his signature bass lines. These grooves are the infrastructure of the music. Much like Meshuggah or Gojira, Sleeptaker is driven by rhythmic techniques such as synchopated beats and interesting changes in time signature. The tempo shifts range from silky smooth to drastic and jagged. The new songs rival and maybe even surpass some of the earlier material from their seminal album, Could Have Moved Mountains. However, Descent remains my favorite track, and I'm impressed by the ease with which the new drummer and guitarist are breaking in.
Sylphs is comprised of three shirtless dudes in corpsepaint. (No, animal pelts do not count as  a shirt, nor does an unbuttoned denim vest.) The view was nice, but the music was even better. The high pitched black metal screams and dreamy, atmospheric riffs  were grounded by ruthless, oppressive percussion. The music was very ethereal but intense, befitting the title Sylphs. According to Greek Mythology, a Sylph is an elemental spirit of Air, much like Dryads (wood nymphs) or Undines (water nymphs). These anthropomorphic but inhuman creatures were the precursors to the European lore of mischievous Faeries and Ghouls. Fittingly, the band embodies this sense of mystery, with eerie, dark soundscapes that conjure images of magic and mayhem.
Hailing from Denver, Colorado, Ghosts Of Glaciers had a very cerebral and pensive Post Metal sound. The music was not especially heavy, but this was compensated by expertly arranged compositions and beautiful, melodic polyphony.  Their instrumental stylings were so grand and epic that it was easy to forget that the band has only three members. Tragic, brooding ambience would open up into powerful, aggressive riffs. This resulted in a very lucid, sorrowful style, saturated with melancholy.
Serial Hawk from Seattle are currently touring the United States, and their repeated appearances at The Cave suggest that Santa Fe's love for them is mutual. As always, their performance was a wet dream incarnate for fans of sludge, doom, and stoner metal. The pounding drums and thick, heavy riffs were played at dreary pace, providing a background for the screaming vocals. Serial Hawk is noisy and painfully loud, dashing where angels fear to tread with high decibel madness. Hell, my ears are still ringing.
Yar plays so often, especially at The Cave, that I feared I might get sick of them. Fortunately, this apprehension proved to be unfounded, as they fucking KILLED IT. Their explosive energy and violent thrash metal attitude is timeless. Do you ever bang your head so hard that you feel like it's going to unscrew from your shoulders and let out all your nasty guts and repressed emotions and whatever else you have stashed away in there? The rowdy pits and aggressive music were extremely cathartic, if somewhat hazardous. Glory be to the saviours.
This show was brutal, trippy, and fun all at once. In fact, it was nearly perfect. My sole disappointment was the absence of Secrets Of The Sky, who I was looking forward to seeing. Nevertheless, the bands who performed were each amazing in their own right, and combined, they were a force to be reckoned with. Four stars out of five!