Band Profile: The Screamagers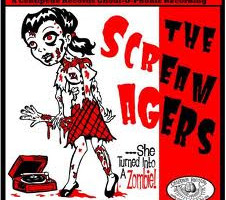 "Centipedes seem to exert a weird fascination on the morbid apetites of the hysterical and insane." -J.L Cloudsley-Thompson. I guess it's true, because I happened to be researching the damn creatures for the past 3 hours or so. At any rate, whether by divine providence or the clusterfuck of the World Wide Web, I discovered something called Centipede Records. I guess it's some kind of indie label? Well, these dudes are signed under them, and that's good enough for me.
In a nutshell, it's pop-punk about zombies and stuff. The long story, though, reveals elements of diverse genres and influences. The Surf-Rock toward which they hint is inextricably linked with the story of Metal, with loud twangy guitars and minimal chord progression. The Screamagers also embody traits of 60's Doo-wop/Pop numbers, with simple catchy riffs bordering on early Punk.  Hell, even Napalm Death seems to be an inspiration, what with the quickies that last little over  minute, if that. Subject matter is largely based on Vincent Price and the Hollywood sensationalism of zombies. The album art is indicative of early Punk, but still nods toward the quaint teenager-in-a-poodle-skirt motif that permeates the musical style.
Morbid, whimsical, spooky, and weird, I think I just found my new obsession. Four stars outta five.