Concert Review: Maeth, Distances, and Torn Between Worlds at The Underground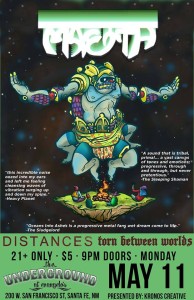 Like a sailor enchanted by a siren's song, I will always be drawn to The Underground At Evangelo's. This three band concert on a Tuesday night hit the bullseye, and delivered a show to remember. This is what happened:
Distances opened up the show, and they fucking slayed it. The downtempo ambient parts appease the math/prog fan in me, while the heavy parts are pure metal and get my blood boiling. The contrasting brutality and melodiousness flow seamlessly together. Their style is very cerebral and intelligent, but also extremely aggressive.
Torn Between Worlds was the most evil sounding band tonight. While the brutality of the other bands was counterbalanced by melodic parts, Torn is nothing but unrelenting, ear shredding dissonance. This band is a Frankenstein beast, conglomerated  of grind, hardcore, punk, and metal influences. Each song was rowdier than the last.
Maeth of St. Paul, MN, is very progressive. The ontological title of their latest album, Oceans Into Ashes, reflects the pensive, suspenseful nature of their songs. The band is comprised of a bassist/ singer,  two drummers, and  two guitarists (one of whom also plays, of all things, a flute.) The drums sounded very primal and impactful when played in unison, and even the flute was integrated tastefully. Although the music was primarily atmospheric, there were some dark, dissonant moments of heaviness.
All factors considered, this was a damn fine show. There was just enough angry noise, tempered by just enough sonorous melody. Four stars out of five!