Concert Review: Xaedus, Rockfox, Blinddryve, and 3 Weeks Later At The Underground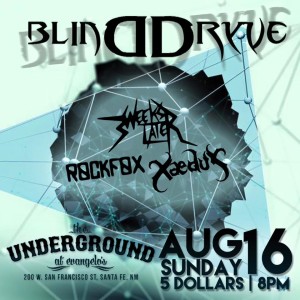 Santa Fe is notorious for its sleepy Sunday nights, when everything closes early and the city is like a ghost town. Thankfully, we had some heavy fucking metal to break the mold and draw a crowd for a night of mishief. This is the madness that ensued:
Xaedus is a new band on the scene, but boasting experience in bands like Soul To Rest and Oscillation, many of the members are seasoned veterans. They had a very atmospheric, spaced out sound, wherein crisp leads cut right through nebulous rhythms. Most songs were syncopated to some extent, but some were so drastic in their polyrhythms that it was difficult to latch onto a beat with which to headbang. Although I was flabbergasted at the lack of vocals (since I know for a fact that certain band members are experts in that field), I was impressed by weight and substance they had as an instrumental group.
Rockfox is a flashback to  Dio era Black Sabbath. The soaring vocals were technically clean, but retained the rough edge and rasp of rock and roll. The bass, rhythm guitar, and drums were all brooding and heavy, just like in the seminal days of metal. The lead guitarist was a badass shredder, and his virtuosity often stole the spotlight. The songs ranged from slow-tempo ballads, to catchy anthems with hooks so addictive you could almost dance to them, and even a heavy metal rendition of Eleanor Rigby. I'm sure there have been metal covers of the Beatles before, but seldom this tasteful.
It's been a few years since I had last seen Blinddryve, and their new line up came as a surprise. Julie Otero is a new addition to the band, with full-bodied clean female vocals in the vein of Spacegoat.  Her vivacious vocals highlight the bluesy undertones of the music, much like the right wine enhances the subtle palate of fine cuisine. Her singing, coupled with Daniel Gonzales' gravelly metal screams, made a dynamic combination. However,  Drummer Eric Salazar brought the house down with a spectacular solo. That man is a natural born killer. His playing style was very tight and precise, while also fluid and natural. Usually when a drummer is playing that fast, they don't act so damn casual about it. The whole audience was awestruck by his nonchalant prowess on the skins.
3 Weeks Later are brewing up some new material, apparently. In addition to some fresh tracks, they also played older classics from their Glass Prison EP, as well as a stupendous cover of Megadeth's Symphony Of Destruction. I've always been a fan of theirs, but their new material is a little more thrashy, and as such more ambitious and energetic than their debut. The grooves are more infectious, the riffs beefier, and even the percussion and vocals are harder than ever before. The whole night ended with a bang, as their closing song Burn It Down was a fast paced, high octane party anthem about, you guessed it, FIRE. The riotous energy of the band was contagious, and I'm sure I'm not the only one with whiplash.
The musical diversity in the line up kept the show exciting, and even within each band's set, there was enough variety to make and maintain interest. A great time was had by all. Four stars out of five!