Five Reasons Evangelo's Is The Best Bar Ever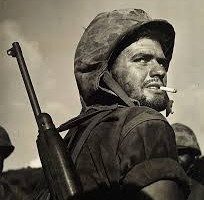 Bacchus lives, and his home is Evangelo's. This bar is, in a word, authentic. There is no pretentious "scene" that it is trying to emulate, nor is it a sleazy dive bar. Bikers and yuppies alike party and mingle within these walls.  Although the establishment attracts many curious tourists, Evangelo's patrons are usually local regulars. Here are five reasons why we love this place:
I: The History
The bar is named for its founder, Angelo Klonis, who came to the United States as a stowaway from Greece. His military service in World War II gained him American citizenship, and thus he returned home to Santa Fe in 1945. He opened the bar in 1969, and now his son Nikolaus carries on the family business, where the interior walls are plastered with framed photographs and other mementos of Angelo's lasting legacy. The décor is primarily dominated by war memorabilia, especially Angelo's portrait made famous by photojournalist W. Eugene Smith. The unmistakable visage graces the covers of books, magazines, plaques, and a particularly impressive framed photograph hanging directly behind the bar.
II: The Selection
Unlike the meager selections which are inexplicably the norm for downtown Santa Fe, Evangelo's boasts a colorful cornucopia of brews and spirits. The bar upstairs offers a menagerie of exotic liquors, as well as comfortable favorites. Niko Klonis mixes a mean white Russian (and also makes the best damn gyros this side of the Aegean sea.) Downstairs in The Underground, Johnny Pink makes Pistachio Shots and other novelties, and both bars offer a variety of craft and domestic beers.
III: The Atmosphere
The shelves and cabinets themselves are vast, sprawling expanses of mahogany, ornately carved with vivid imagery of marine life. There are even seahorses on the backs of the barstools. These magnificent scenes were carved by Patricio Romero several decades ago, shortly after the bar opened. Seashells, sand dollars, and even fish devouring each other are exquisitely depicted in graphic detail. The expertly sculpted subtleties of these gorgeous displays make these monsters come to life, teeth bared and bodies intertwined in carefully crafted realism. The granite and wooden furniture downstairs originally belonged to The Mediterranean, a downtown restaurant that has since closed.
IV: The Music
There's always something popping here. Besides the occasional touring band or local metal act, there is something to look forward to every week. Greg B. and The Gunsels play their Americana/Folk music every Tuesday, Doer hosts Takeover Wednesdays at The Underground with live hip-hop, and Little Leroy and his Pack of Lies perform Rock n' Roll covers on Thursdays. The stage upstairs is modest at first glance, but on the right nights it resembles a Renaissance painting: The heavy crimson of the lush velvet drapes, the lights casting a rich gold tint, the demure moon shining and reflecting on the huge glass windows, and the human form caught mid-motion as the band and audience dance the night away. The Underground doesn't have a stage, but the bands and DJs have a designated space to perform and the audience has plenty of room to mosh. The Underground used to be full of pool tables, but these were removed many years ago so the area could be converted into another bar. Although it wasn't designed to be a music venue, the acoustics are surprisingly good.
V: The Memories
I got my first picture ID on my 21st birthday (I didn't need or want one until then), and Evangelo's was the only bar who verified my card. A stranger handed me a flyer for a metal show at the Underground that night, and so I descended down the stairs and faced what would become my archetype for the ultimate bar. Not knowing what to order, I asked for the first cocktail that came to mind (a cosmopolitan, of all things), to which my bartender Johnny Pink laughed and offered me an infinitely superior libation: rum and coke. I ordered one after the other, got deservedly hammered, and banged my head while These Charming Cobras, Obelisk, and Serial Hawk blasted their heavy tunes, effectively transforming the building into an oversized kick drum. The painfully loud music in a cramped subterranean bar, surrounded by drunk strangers, and myself completely obliterated, became the standard to which all other drinking establishments have since been compared. From La Cantada and Black Dog in Paris to the punk rock dive bars of the East coast, I've seen my share of great bars around the world. These places were not without their charm, but they're not Evangelo's.
Ever since that fateful day on June 25, 2012, they haven't been able to get rid of me. Five stars out of five!

All photographs courtesy of Jimmy Heil.