Lyrical Analysis: Enslaved- Thoughts Like Hammers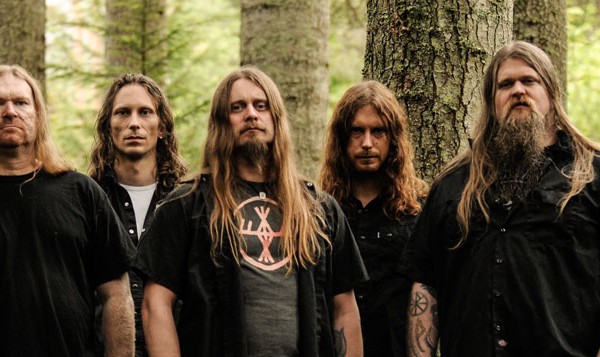 This song grew on me. At first, I was hesitant to listen to a 9 minute song from a band I barely knew. Especially when the intro is so noisy and cacophonous, leading into a heavy, slow riff. The sludgy pace fits the song title, thudding out a long, drowsy rhythm. Similarly, the lyrics were like a brick wall. I strained to grasp their meaning.
Then suddenly, the wall of sound gave way to clean singing, ringing out clear and sonorous. This melodic chorus won me over. I couldn't get enough of it. I listened to this song over and over until the repition gave me a headache. It was worth it. It was like crushing my own skull with the hammer of Ukko. I was like an addict. I listened to this song in the bathroom, in the shower, in bed, anywhere and anytime I could. That's when you know you have a new fascination: when you can't get it off your mind, even if you want to.
Sometimes my mind runs in circles, repeating itself like a broken record. At times like this, my thoughts truly are like hammers, beating up my brain, imprisoned in my head. Songs like this give me something else to obsess over, and break the vicious cycle. Here are my thoughts:
Lyrics:
"Celestial buried mind resting,
Resting without peace still."
If there is an afterlife, it may not be a peaceful one. Many religions have their own versions of purgatory and hell. Many believe in reincarnation, wherein living on earth is like a punishment in its own way. Superstition also tells us of tormented spirits and ghosts who died with regrets, and are cursed to wander aimlessly in a vain attempt at closure. Life is suffering, and so is death.
"Don't know where I drowned,
Cornered and defeated.
Yes, there's a thought forming
Patterns in the currents,
Mud-dwellers at the star-floor."
After death, maybe we do "watch over" the living. But the dead are still powerless to intervene in the world of life. They can observe, but they can not interfere.
"Nourishment for the mind seeps,
Harvest through suffering,
Absorbed in desperation."
Just like the cold, bitter rain helps plants grow, so too does suffering help a person grow through adversity. It hurts, but it is necessary. Just like a seed grows roots to absorb the water and soil around it, so do humans grow coping mechanisms to absorb the suffering of the world. That is how we learn from our mistakes.
"Assimilated logic
Drawn towards the ladders."
Only empathy can help us rise above the chaos and pain. When you see that everyone is also hurting, you are sensitive to their struggles. We internalize each other's problems and they become our own. But sometimes, this can be a good thing.
"Elucidated, burned, afraid,
Instinctive destruction sparked."
Deep inside, we are all the same. When you strip away all of the shallow nonsense, everyone is just a normal human with the same basic needs. Everyone is also deeply flawed. We are all selfish, we are all hypocrites. Even so, we still crave comforts, shelter, forgiveness, and unconditional love. Too bad our self destructive tendencies get in the way. We are as sensitive as if our very skin was exposed, naked and vulnerable.
"Elucidated, burned, afraid,
Knowing only my own dissent."
When our own flaws are exposed to ourselves, we naturally want to deny it or ignore it. This perpetuates the cycle of suffering.
"Elucidated, burned, afraid
Static is the common language
Elucidated, burned, afraid…"
You can lie to others. You can even lie to yourself. But you can't lie to the universe. It can read your intentions and heart. You can't change how you truly feel deep down inside. Our selfish instincts are hardwired in our own limbic systems, a natural reflex like ghasping in cold water, or breathing involuntarily.
"Celestial buried mind resting,
Resting without peace still."
The guilts and regrets of our lifetimes may come back to haunt us in the afterlife. Even death itself is powerless to ease our pain.
"Assimilated logic
Drawn towards the ladders."
Like purgatory of Dante's Divine Comedy, the karmic retributions for our sins will eventually absolve us. This is also akin the reincarnation of Hinduism. We must all suffer for our wrongdoings, in proportion to how much we hurt others. Only after experiencing guilt and sorrow, can we ascend to the next level of existence.
"Elucidated, burned, afraid,
Instinctive destruction sparked."
Survival of the fittest is how life evolved on earth. Kill or be killed. Nature is cruel and unforgiving. Parents cannibalize their own offspring shortly after their birth, or vice versa. Siblings kill each other to reduce competition. Some animals kill each other over territory. Weeds choke out native plants to dominate the soil. Invasive species destroy entire ecosystems. Destruction is primal. Even before life, the universe was violent chaos. Stars, planets, asteroids, nebulae, and galaxies were all formed from violent impacts and explosions.
"Elucidated, burned, afraid,
Knowing only my own dissent."
In all of this entropy, it may seem that life in general, and humanity in particular, is insignificant. And maybe it is. But at least we are entitled to our own subjective pathology. Our pain is our own. We deserve our self-righteous anger, our sadness, and perhaps even our brief moments of joy.
"Elucidated, burned, afraid,
Static is the common language.
Elucidated, burned, afraid…"
Like entropy, inertia is also a law of physics that governs our reality. An object at rest stays at rest, unless acted upon. Patterns repeat themselves. Even the cycle of pain and healing is a recurring theme in nature.
"Motion remains our mothertongue.
Failure might not be what it seems.
All is broken for a reason,
Familiar blood drawn for painting."
The laws of physics and chemistry affect us all. Our bodies are made of elements, compounded into chemicals, which form complex cells, which live symbiotically in a series of interrelated systems. This is akin to an entire ecosystem. Similarly, Plato famously mused, "The city is the citizen writ large." The microcosm reflects the macrocosm. As above, so below.
Outer space is chaotic, our own galaxy remains mysterious, the solar system is complex, planet Earth is an anomaly, and our existence here is a lucky coincidence. No wonder our individual lives are so screwed up. We caught a few random lucky breaks, but the entire cosmos is a mess.
Even though none of this makes sense, why not make the best of it? Sometimes I feel like I'm in so much pain that I can do is hurt and bleed. If all you have is blood, turn it into ink. Write with it.
"Willing another perspective,
Flashing scenes seeing children above."
After several lifetimes worth of hatred and melancholy, perhaps the soul can finally be free. From our graves, we will watch the next generations do better than we did. If they didn't learn from our mistakes, then all of our suffering was in vain.
"Knowing there will be another life,
Sacrificing,
Sacrificing remnants of the past."
When we are dead and gone, the next generation will still be living. In this regard, there is life after death. We will still exist in the memories of others. But they may not necessarily remember us fondly.
"Walking all on my own forever,
The illusion no longer needed."
Our deepest and darkest suffering is done in solitude. Lonely tears shed in the dead of night, in suffocating silence. Existence is so painful and cruel. It may seem unfair. But at least it's unfair to everybody. There is no justice, but there is a sick sense of equity. Misery loves company. You may be alone and miserable, but so is everyone else.
"It is spoken without words of doubt,
Now we move the stars above, below,
And dwell beneath the layers of dirt."
When a body is buried, the ground becomes their sky. The ancients described the afterlife as an underworld. To this day, we picture Hell as a physical location, a subterranean cave or volcano full of fire and brimstone.
After several thousand years, our planet may once again be destroyed by the same celestial bodies that helped form it in the first place. The sun gave us life, but it can also kill us all. Gravity is a force of nature. Comets and asteroids ruined entire eons worth of evolution. It can happen again.
"My runic patterns in the current,
My runic patterns in the current."
Time flows forward like a river. Our existence is a happy accident, at best. Even so, we have the chance to make our mark. Even prehistoric humans made tools and art, later discovered in caves and caverns around the world.
We remember books and paintings that were made hundreds of years ago. Most of these masterpieces are tragic. The characters struggle and fail. Kingdoms fall. Entire families kill each other off. All of these misfortunes have befallen real people, who channeled their pain into creativity. Destruction can also create.
"Motion remains our mothertongue.
Failure might not be what it seems.
All is broken for a reason,
Familiar blood drawn for painting."
Do what you say, and say what you mean, because your actions speak louder than your words. Practice what you preach. You might try to convince yourself that you're a good person, or that you're special. But the best way to prove it, is to actually do something good, something special. Again, this applies to inertia, a fundamental law of physics. If you are moving toward a goal, you will maintain your trajectory. If you are stagnant, you will remain stagnant indefinitely.
The only way to succeed is through trial and error. For every one success, you will experience several failed attempts. But they were all stepping stones leading you to your destination. In that sense, they were all necessary. You need your failures as much as you need your success.
"Willing another perspective,
Flashing scenes seeing children above."
Sometimes we are our own biggest obstacles. Our mindset is the problem. When we see ourselves and others in a different light, we might notice details that were otherwise obscured. We can perceive the same reality in different filters: Meditation, prayer, self-reflection, introspection, and just the face-value facts are all different ways to deal with the same situation.
Once we gain a self awareness of who we are and why we're here, we can be humble, but dignified. We can accept our inevitable fate of death, not with fear, but with grace and courage. Nobody lives forever. When we die, something, somewhere, will still be thriving. Even if its some rare bacteria on an underwater volcano in the Mariana trench. The world is much bigger than ourselves, and yet, the smallest organisms can have a huge impact.
Conclusion
Listening to this song was hard at first, because the lyrics are so heavy and the music is so discordant. When I started looking at the lyrics, they reminded me of myself, and not exactly in a flattering way. I remembered many times that I've been hurt and betrayed by others. I also felt guilty about my own mistakes.
Looking back on all these unhappy memories was unpleasant. But I felt better after I acknowledged my resentment, toward myself and others. Besides, in a matter of a few short decades, all of our petty squabbles will be dead and buried with us. If you are going through good times, appreciate them while you can, because they won't last forever. If you are going through bad times, remember that you are not alone, because everyone has suffered, and we can all empathize with feeling pain. Neither the good times nor bad times are eternal. Even the repititive song structure echos the cyclical nature of existence. This too shall pass.