Album Review: Savage Wizdom – A New Beginning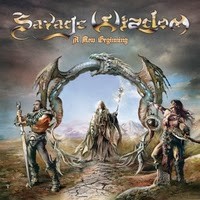 Santa Fe based power-metal champions Savage Wizdom have finally released their highly anticapated album, A New Beginning. Before I even opened the CD case, the bitchin' cover art already had me enraptured with this album. The striking image of a snake devouring its own tail is an ancient emblem with profound symbolism, a perfect image to embody the album,  exemplefying the triumph over adversity and the cyclic nature of good vs evil.
The music opens up with The Sands Of Time, a somber instrumental, then abruptly descends into heavier territory with the title track. A New Beginning is  a favorite anthem amongst local  rockers, who often sing along and headbang in unison. Another well known track is Do Or Die, originally released as a demo, which has been rerecorded and is heavier than ever. This is a lightning-speed, hard-hitting, bombastic account of a man's confrontation with the grim reaper.  Although Savage Wizdom remains true to the archetype of power metal that fans came to know and love from their debut, their  newest album indicates more musical maturity with heavier themes. Fans of the beefy riffs and righteous shredding of No Time For Mercy will not be disappointed, yet the subject matter is no longer fantasy escapism. The lyrics delve into deeper and more human fights against evil.  More pensive than most of the other tracks (excepting the maudlin ballad Far Away), Shattered Lives is my favorite song on the album. This is a song inspired by, and dedicated to, the children who struggled to survive in a Nazi regime. The lyrics are poignant and melancholy, complimented by the sorrowful melody plummeting into furious shredding.  Even a track like The Barbarian, which invokes Manowar with its primitive rhythm and haughty riffs, shows an unpretentious authenticity and raw talent that a more polished piece might conceal.
And did I mention that Blaze freaking Bayley does guest vocals for Let It Go? Goddamn right he does. This latest offering proves that Savage Wizdom has evolved and improved from their memorable debut. Although No Time For Mercy is a great album, A New Beginning is far more refined and focused. Absolutely fantastic. Four stars out of five.