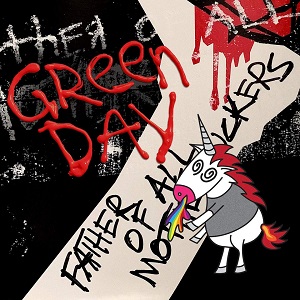 Green Day is my favorite pop punk band, but this album may be more pop than punk. That's not necessarily a bad thing. The Beatles themselves, who posed with butchered baby dolls and claimed to be bigger than Jesus (punk as fuck), also aspired to become the "Toppermost of the poppermost." The line between rock and pop has always been blurred. And, like The Beatles, Green Day exemplifies the very best of both worlds. Some songs sound like they came straight off of Revolver or Rubber Soul. Green Day's harmonies sound similar to the Fab Four, and Billie Joe Armstrong's solo voice sounds similar to a young John Lennon. Even the rockabilly tracks are reminiscent of The Beatles' early work.
Even as a kid, I always liked Green Day, with mainstream songs like Good Riddance playing on the radio. But this became a full-fledged love affair when American Idiot blew up, and I truly grew into my love for Green Day. They are one of my top 5 bands of all time, rivaled only by Amorphis, Alice Cooper, Pink Floyd, and of course, The Beatles. This new album reminds me of high school, when my love for Green Day blossomed. It was the Year of Our Lord, 2004. I was 14 years old, a Freshman at Capital High School. The new album, American Idiot, was phenomenal, along with the eponymous single. Their energetic music and rebellious lyrics resonated with my youthful angst, and even their gender-bending shenanigans helped me become comfortable with my own bisexuality.
Everything about The Father Of All Motherfuckers is nostalgic, including the album art. The cartoon unicorn puking a rainbow is very 2000's scene kid. It makes me want to RAWR XD at all my old friends from Myspace. Somehow this albums sounds like the rockabilly of the 50s, the psychedelic rock of the 60s, the punk of the 90s, and now the modern pop of 2020. Even the filler songs are catchy. My favorite single is Oh Yeah. The lyrics about burning books in a bulletproof backpack were especially profound. I love how Green Day stacks layer upon layer of symbolism and imagery in their songs. I'll have to write more Lyrical Analysis articles about them, because their songs and melodies can be interpreted in so many personal and universal perspectives.
I first heard the song Oh Yeah on a local alternative radio station. Even the DJ was gushing about how this song re-ignited a love and passion for a band that he already liked for years. I agree! This album is almost instantly recognizable as Green Day, and yet they shook up their formula, experimenting with pop staples like autotune and repetitive song structures. And it works! My only complaints are that the album is too short, and half of the songs are fillers. Even so, that gives us a few solid bangers, and an overall cohesive, straightforward album.  3 stars out of 5!