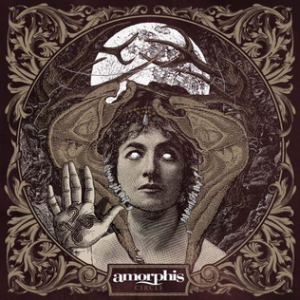 Circle is a major rebound after Beginning Of Times. Don't get me wrong, I thoroughly enjoyed BOT, but enjoyable isn't the same as phenomenal. It's not necessarily a bad record, it just pales in comparison to its predecessors. Whereas BOT was uber-melodic and keyboard heavy, Circle is just plain heavy. Amorphis ditched the saccharine undertones in favor of a more guitar-oriented approach. This shift is doubtless due to the involvement of Peter Tagtgren, renowned for his previous production work with acts such as Dimmu Borgir, Amon Amarth, Immortal, and Celtic Frost (to name a few. )
That's not Amorphis' only deviation from the norm (if you can say such an unpredictable band has a norm, but I digress). Since Tomi Jousten joined the band in '05, I have been astounded by his vocals. His range is fantastic, and I was impressed with his ability to sing cleans with virtuosity as well as intense, throaty Death Metal growls. Circle pushes his limits even further with some high pitched Black Metal voice-work.I usually don't care for demonic shrieking, but Jousten pulls it off.
Amorphis is a band who pride themselves on their ability to adapt to different genres. Their newest album lives up to this reputation by surprising the listener with refreshingly different dynamics in composition. The melodies alone are a force to be reckoned with. Forgive my cliche, but I truly expect the unexpected as far as Amorphis is concerned. Just when you're lulled into a false sense of security with a beautiful instrumental arpeggio, you get slammed with Tomi's powerful voice or some heavy-as-fuck guitar riffs. Likewise, don't assume that this another Melodeath album. It's not. There are dashes of Folk, Prog, Doom, and a whole plethora of genres that Amorphis has a knack for intertwining.  It seems that the only constant with this band is the melancholy aura that emanates from their jaw-droppingly gorgeous music.
The lyrics are tragic and mystical, painting vivid scenes of the surreal and macabre storyline. Unlike their previous three albums, Circle is not based on the Kalevala, but on an original story penned by Pekka Kainulainen. The protagonist is a lonely iconoclast, initially burdened with a desperate, sorrowful fate. By the end of the album, he gains some autonomy and recognizes his potential to control his own destiny. As Kainulainen himself succinctly summarized: "This is a story of survival."
Overall, this is a stellar gem of an album, and I am tantalized with the possibilities it opens for the next.
Five stars!