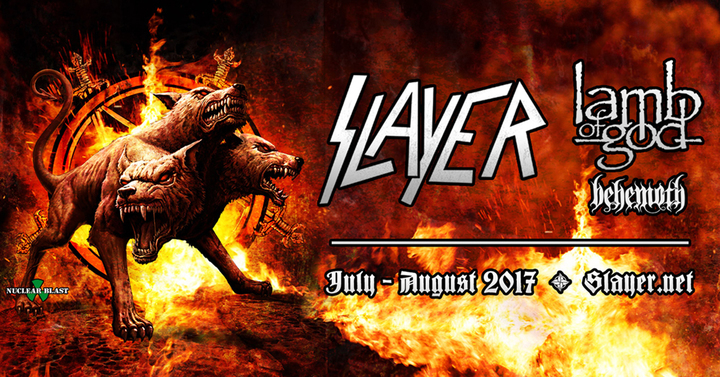 Slayer are arguably the hardest and heaviest thrash metal band out of the Big Four (Slayer, Metallica, Megadeth, and Anthrax). Touring with black metal badasses Behemoth and extreme metalcore outfit Lamb of God, they conquered North America for their 2017 summer tour. Their August 19th performance at Isleta Amphitheater in Albuqurque, New Mexico, was especially memorable. Here are the juicy, bloody details:
Behemoth, hailing from Poland, play brutally crushing black metal. Their rhythms and vocals are droning and dissonant, but their guitars sound more melodic.  The riffs have a Middle Eastern lilt, with sustained notes and undulating flourishes. This music is slow and suspenseful, evoking a feeling of dread. Satanic song titles and lyrics use Biblical imagery with a blasphemous twist.  Their gruesome appearance included such macabre details as demonic corpse paint on their faces, voodoo necklaces made out of chicken feet, and grim black robes. These grotesque curiosities amplified the fear factor of their dark music.
Lamb Of God were even heavier than I expected. Holy fuck. Vocalist Randy Blythe is a damn beast on stage. With his wild dreadlocks swinging with every headbang, and pouncing on the stage like a wild animal, his stage presence did justice to his powerful voice. The booming gutturals, paired with crashing drums and thunderous instrumentation, made for a primal experience. Acknowledging their loyal NM fanbase, they even dedicated the track 512 to the natives in the audience.
The pyrotechnics were hotter than hell. You could feel the heat and power from several yards away. Lamb of God has a tangible beat and rhythm to their music. The drumming is powerful and loud, the bass lines are solid and heavy, with crushing guitar work and Blythe's monstrous vocals. As all these brutal elements combined, plus the extreme theatrics, this concert could be heard and felt at full throttle.
Slayer played extreme thrash metal with a vengeance. Furiously loud and insanely fast, they clawed their way to the top of the metal world. Like Behemoth, many of the guitar riffs exhibit a Middle-Eastern influence. The opening for Repentless is a prime example of this. The backdrop of the stage was the gruesome Christ figure of their Repentless album art. The side lines were ornamented with monstrous apparitions, remeniscient of Hieronymus Bosch paintings of Hell. These grotesque phantoms seemed to move with the changing stage lights and billowing wind, as if the demons were coming to life.
Roughly halfway through their long set, they changed the scenery to the infamous eagle logo from their Seasons Of The Abyss era in the 90s. This was a fitting backdrop for their most popular song, Raining Blood. The iconic riff is so heavy that it blurs the line between thrash and death metal. Their tongue-in-cheek introduction to First Love Song injected some much needed humor and sarcasm into an otherwise brutal set list. Other classic songs in their arsenal included Seasons In The Abyss, Hell Awaits, and their epic finale, Angel of Death.
This concert was a nearly perfect line up of world class, A list metal acts. Behemoth, Lamb of God, and Slayer each represent the cream of the crop for their respective subgenres. Black metal, hardcore, and thrash were all done justice by the best bands in their fields. Five stars out of five!