Concert Review: Castle, Fallen Prophets, and Cicada at Launchpad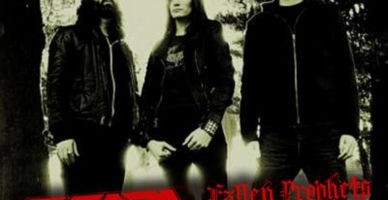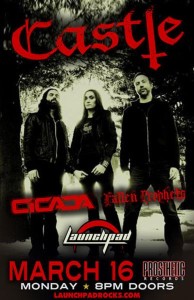 Shows like this are why Launchpad is one of my favorite venues. It's a terrific place to have a few brews and get your metal fix on a weekday night. In case you weren't there on March 16th, here's what you missed:
Cicada were weird and trippy. All the overlapping instruments blended almost too well together. There were parts that I couldn't tell whether it was a  voice or a  guitar, since it was so heavily distorted. The track In The Grand Scheme played this out beautifully, other songs, not so much. There were lots of energetic blast beats, countered by atmospheric (keyboard?) parts. Definitely worth seeing in concert.
Fallen Prophets put on a good show, but for some reason I feel like the acoustics were better at the small, almost cramped Armory. By that I mean they didn't sound loud enough at Launchpad, even though I was standing close to the speakers. With bands like this, I always want it to be LOUDER. I also learned something about my favorite track of theirs, Whispers In The Abyss. It's totally about Cthulhu! Fuck yeah, now I love that song even more.
Castle have cool designs on their merch, but their music kind of fell flat. They were redeemed by cool, galloping riffs and some righteous solos. The music is heavy, if eccentric. The anthemic power metal style is often limited by familiar song structures. Otherwise, they are an interesting band, blurring the lines between doom and power metal.
It was a decent concert, but it was only as great as the sum of its parts. The audience was small and not particularly energetic. The bands, on the other hand, were all thoroughly enjoyable. Three stars out of five.