Concert Review: Dark Tranquillity at Albuquerque's Launchpad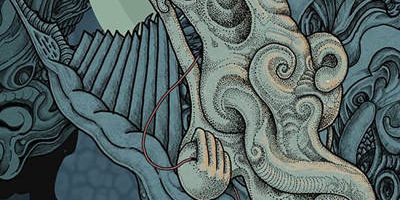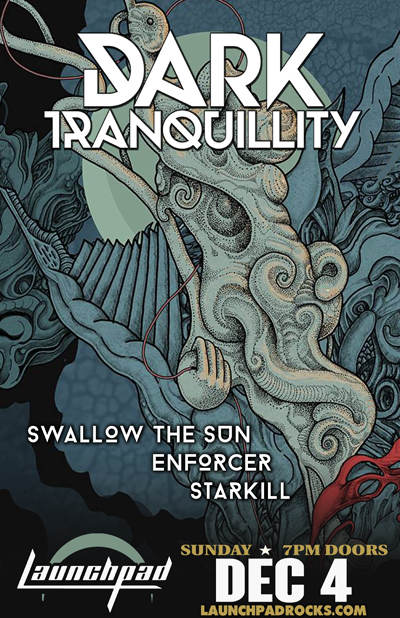 This show was a perfect storm of musical variety, consistent heaviness, and high-energy excitement. Launchpad is one of my favorite venues, and it outdid itself for this concert. Each band was unique, yet the chemistry was cohesive, and the result was like the so-called "goldilocks effect" that created life on our planet: A seemingly random formula of a certain matter, in certain places, et cetera, that culminates into a whole greater than the sum of its parts.
Starkill
managed to impress, even though I only caught the very last of their set. Their music had hints of metalcore, with melancholy clean vocals juxtaposed against growls and melodic guitar hooks. I was inspired to check out their bandcamp, and to my delight, they have a fine collection of power chords and haunting female vocals, plus some wicked guitar solos.  Do yourself a favor and check them out.
Enforcer
are an epic power metal hailing from Sweden. Everything about this band screams "80's METAL!!!" Enforcer hark back to the days when the line between hard rock and glam metal was blurred. From catchy guitar riffs and harmonized choruses, to shredding guitar solos and high pitched vocals, this band exemplifies everything that made early heavy metal so badass.
Swallow The Sun
, from Finland, are defined by progressive, almost trance-like soundscapes. Their atmospheric music is experimental, ambient, and mesmerizing. The lead singer boasts skills in both clean and gutteral vocals. It was easy to get lost in the mix of the music, and go to another world entirely. Its seldom that we consider music that could be simultaneously brutal and beautiful, but Swallow The Sun offer the best of both worlds.
Dark Tranquillity
are one of the most prolific Swedish melodic death metal bands, hailing from the city of Gothenburg, from which the genre earned its nickname. Playing classics like White Noise Black Silence, the band also performed tracks from their new album, Atoma, which is yet another masterpiece among their impressive discography.
Within a matter of seconds, soaring melodies plummeted to the gutteral depths of hell, displaying a complete mastery of both heaviness and melodic virtuosity. Not only are they expert musicians and eloquent lyricists, they are also genuinely passionate. Their excitement and energy are infectious. These are badass shredders who happen to be very humble and down to earth. Like their fellow Swedes Enforcer, they are cool enough to socialize with fans, sign autographs, and generally kick ass at life.
Oh, and rumor has it a vest of one of the band members went missing that night. If anyone knows where it is, or can help return it, please do so. That vest was going to be auctioned for charity at the end of the tour. If you have any information regarding it, please contact the band!
All things considered, it was almost a perfect night. This concert is a shining example of exceptional live music, played with heart and soul. A genuine connection between bands and fans, plus professional musicianship and talent, made for an amazing show. Five stars out of five!