Concert Review: The Elected Officials, Almost A Lie, And More At The Underground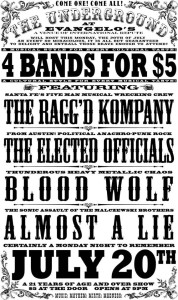 As fantastic as New Mexico is for the local metal scene, I'll admit that its punk scene has been in critical condition for a long time. This concert helped restore the vital signs into our beloved music. Here's how:
Almost A Lie sounded just like they did at Warehouse 21 a few years back. Their style of punk isn't exactly hardcore, but it's a far cry from pop punk nonsense like Blink 182 or Sum 41. They hit that sweet spot where the music is angry, emotionally driven, and just goofy enough to remind you that punk rock is supposed to be fun. The band is comprised of twin brothers: David Malczewski on lead vocals and guitar, accompanied by Adam Malczewski on back up vocals and drums. It's not every day that I see a two piece band that's actually good.
Blood Wolf were a blast from the past, playing their own renditions of classics. Heavy metal, power metal, and thrash were all represented faithfully. Neon Knights by Dio and Wasted Years by Iron Maiden were two of my favorite songs from their set, performed in their own distinct style while still remaining true to the originals. Their versatility as musicians is impressive; but as much as I enjoyed their covers,  I would like to see them play some more original material. This shortcoming aside, Blood Wolf were fucking killer. The whole room was headbanging, moshing, and singing along to this badass band. There wasn't a still body in the building while they played.
The Elected Officials are politically charged punk rock with a message. The fast paced, energetic anthems rival the likes of Rancid and The Dead Kennedys, while the lyrics delve into dark matters such as corrupt governments in a consumerist, capitalistic society. Although most songs pertain to turmoil on a global scale, others are about more intimate tragedies. Pushing Daisies is a track about losing a loved one to a heroin overdose, and its tortured riffs and frantic tempo perfectly exemplify the rage that one feels when faced with such a situation. On a happier note, they have an awesomely hilarious music video for The Lobby, a rowdy fan favorite.
The Ragg'd Kompany, although more folksy, were not at all out of place at this show. Hillbilly, trainhopping ballads were given a rock n' roll edge with raucous percussion and vocals that were practically screamed. The simple song structures of bluegrass and Americana lend themselves well to punk music. I'll admit, the harmonica was unexpected, but this was still a good band to end the night.
The whole concert was fantastic. There was enough variety to keep the audience on its toes without deviating too far from the punk and metal that we know and love. Four stars out of five!