Hell In July *Updated*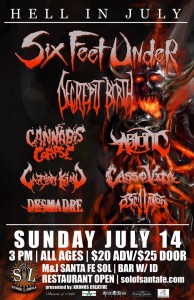 Hell In July is the  aptly named national tour featuring Six Feet Under, Decrepit Birth, and Cannabis Corpse. *UPDATE*  The show made headline news, and here's a link to the
article.
The show got off to a good start with Oscillation. The vocals are uber-deep growls, and occasionally reverb with an effect that resembles Autopsy's sound. The guitars and bass are aggressive and catchy in the vein of the Deathcore genre. This band is comprised of former members of
Soul To Rest
and
Obelisk
, keeping elements of both bands. Death Metal Party Sludge hybrid!
Cassovita
Is an instrumental duo of a drummer and a guitarist. The riffs are intricate and technical, complimented by the fast and precise drumming. The result is an extremely dynamic musical style. The audience is kept on their toes with abrupt changes in key and time signature. Some songs transition so intensely that it's almost like getting two tracks in one.
Desmadre
are pretty damn rowdy. No, scratch that, they are fucking RAUNCHY. They are a flashback to old school Grind, with the same fast, catchy riffage of Hardcore Punk. I guess that makes them Grindcore, doesn't it? These guys are straight up scary. Translated from Spanish, their band name means chaos, turmoil, disorder, that kind of thing. It suits them.
Carrion Kind
is another Metal group that emerged from members of broken-up bands. They, like Oscillation, retain aspects of their members' previous bands. So think along the lines of
Grinkai
's funky beats with Grind inspired riffs and some gutteral vocals thrown in. They are completely wicked.
Abiotic
's music sounds like the name implies: Morbid, dark, and sinister. This band is grade A top quality Tech-Death with elements of Prog.  It was around the time they hit the stage that everyone simultaneously got the munchies. I couldn't do much headbanging, moshing, or thrashing in general. I was too busy eating overpriced chile cheese fries and drinking shitty beer.
Cannabis Corpse
was a lot of fun. Their sense of humor was spot on, and their sound was almost studio quality. They sound great on record, and it was the same on stage. The music is hilarious, with themes like getting abducted by pot aliens, or killed by weed monsters.
Aaaand here's where the bad news starts. Right before they completed their set,  Bill Robinson of
Decrepit Birth
announced that the whole show would conclude with Cannabis Corpse' final song. The venue stopped the shindig short on account of alleged underage drinking. Instead of doing something reasonable, like kick the minors out of the bar area, they brought everything to a grinding halt. So two of the headliners, Decrepit Birth and
Six Feet Under
, were screwed out of playing and the audience was screwed out of seeing them. Fans booed, refunds were demanded, sheriffs were called, apologies were offered, but at least it was good while it lasted. Everyone from the promoters to the crew to the bands themselves cranked it to 11 to put on an incredible concert. Although I am disappointed that I missed two spectacular bands, the show was great from start to (early) finish. Oh yeah, did I mention it was fucking raining for part of the show?!  Yeah, those guys kick ass.
By the way, this whole tour was instigated by the release of Six Feet Under's latest creation, 
Unborn.
  Even if you didn't get to see them this time, remember to support them and all the work they put into this album. Also, this is a TOUR. Give it a day or two and the same line up will be playing within driving distance.
Cheryl's final thought: I'm usually not this petty, but $3 for warm Budweiser and then you gyp me out of seeing two great acts? Don't mess with my booze and Metal. The venue gets a rating of a sad face.

 Meanwhile, the concert itself gets four stars. The line up was sick, and the crew worked wonders.