Concert Review: Deep Purple's Long Goodbye Tour, Featuring Alice Cooper and Edgar Winter Band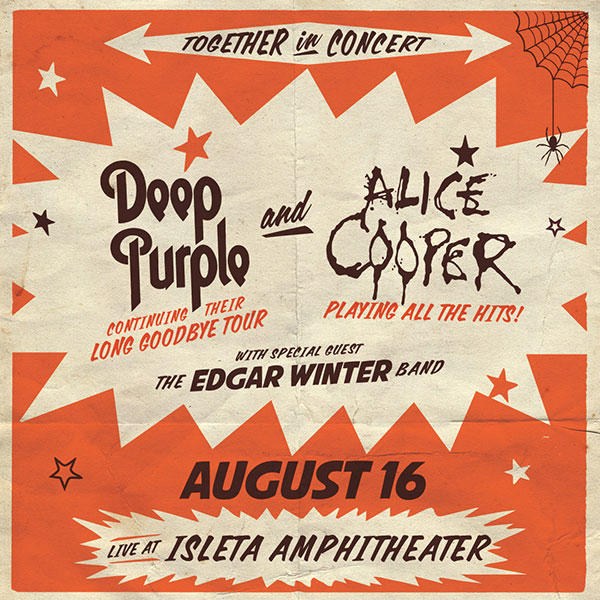 Deep Purple are going out with a bang with their Long Goodbye Tour. This is their final farewell, a swan song for the ages. Alice Cooper shared the stage, celebrating the July 28 release of the new album Paranormal. Special guests, The Edgar Winter Band, are musically versatile, while keeping firm in their classic hard rock roots. Together they formed a memorable and entertaining line up, true to their early heavy metal, progressive rock, and experimental origins. Their August 16th performance at Isleta Amphitheater in Albuqurque, NM, was one for the books.
The Edgar Winter Band were a blast from the past, exemplifying the simple charm of classic rock. Apparently, frontman Edgar Winter pioneered the keytar. Back in the day, he felt caged behind his clunky keyboard stand. He was the first to attach a strap to his synthesizer, innovating the musical trend of a keytar. This revolutionized the versatility and creativity of synthesizers in 70s stadium rock, which has rippled into present day pop music. A prime example of this is the magnum opus "Frankenstein", the pinnacle of synth heavy instrumentals in the golden age of classic hard rock.
Seeing his wild energy on stage, it's easy to imagine how he would need the mobility. In addition to his wild enthusiasm for keyboard/keytar, Winter also played saxophone and drums. While their music could be over the top, their vibe was very down to earth and endearing. Between sets, owls flew over the audience. Apparently they roost in the rafters of the stage. This added another element of fable and fantasy to an already fantastic night.
Alice Cooper stole the show. He opened with the fan favorite "Brutal Planet", from the eponymous album released in 2000. It even included a variation of the famous intro which welcomes the audience to Alice' s nightmare, which is the show itself. The backdrop: Alice's own black haired, skeletal face, with signature smeared mascara and spider webs in the whites of his eyes. This background prop paled in comparison to the later theatrics, which included Alice's decapitation by guillotine. During the macabre performance of the morbid song I Love The Dead, the executioner made out with Alice's severed head, and spat the blood out into the audience. This was all accomplished with impressively elaborate theatrical techniques.
Poison was another sexy and sultry song, one of my personal favorites.  Billion Dollar Babies, Feed My Frankenstein, and I'm Eighteen were other iconic jams that rocked hard. Halo of Fies was more obscure song, one that I personally had never heard prior to this concert. The opening riffs are frantic and frenzied, leading into a catchy chorus and stanzas. This pattern is interrupted by a badass change in key and tempo. This song was followed with a savage drum solo by percussionist Glen Sobol. Alice Cooper's band has a strong line up, each an accomplished musician in their own right. Another refreshing song was the hit single, Paranoiac Personality, from the new album Paranormal, released earlier this year.
Guitarist Nita Strauss is as talented as she is gorgeous. Her stage presence was vibrant, especially her vivacious performance during Woman of Mass Distraction, and the outrageous solo that followed. A heavy metal vixen from hell, her lively energies bounced off those of her bandmates, especially the showboat Alice himself. She also makes a game of hiding merch for her fans, such as signed posters and guitar picks, stashed somewhere on the concert grounds. She does this scavenger hunt, called Finding Nita, at almost every single show. While we didn't find anything ourselves, someone got lucky that evening.
Deep Purple played long and late into the night. They opened with a melodramatic intro, sampled from the orchestral composition Mars, from Gustav Holst's famous suite, The Planets. This sound clip segued into the Deep Purple radio hit track Highway Star. An iconic cruising jam, this song has catchy riffs, captivating melodies, rockin' solos, and suggestive lyrics. All of this set to a speed demon rhythm, and we have a crowd pleasing classic. A deeper cut followed this: Fireball has some righteous fret pinching and other radical guitar techniques. The bass solo was grooving, and the keyboards were a throwback to the quintessential 70s style of hard rock and early heavy metal. The chorus is also infectiously catchy, rivaling the guitar hooks for get-stuck-in-your-head factor.
Another cult classic was the self-described "obscure" and "surreal" thought piece, Uncommon Man. Lead singer Ian Gillan dedicated this eccentric and underrated track to their late friend and former keyboardist, Jon Lord. Teeming with keyboard melodies, this song was a fitting tribute to his memory.  The next track, Lazy, seemed to have a tongue-in-cheek title for a rollicking blues song. It was slow burning, yet energetic, with a smokin' keyboard intro, harmonica interludes, and rowdy guitar licks. The keyboard solo was almost overwhelming, with unique renditions of great musical classics from Mozart's Rondo Alla Turca, to the hard rock ballad Layla.
Smoke on the Water was another time tested masterpiece. The famous guitar riff may be one of the most exemplary melodies in all of metal history. Deep Purple concluded with another popular song, Hush. Like the other Deep Purple hits, this one may be overplayed on the radio waves, but the audience seemed satisfied. The kaleidoscopic visual effects projected behind the band compensated for any musical shortcomings, hypnotizing the audience, including myself, into a nostalgic trance.
Headliners Deep Purple and openers Edgar Winter Band were both trippy and psychedelic flashbacks to the golden age of classic rock: The adventurous and experimental 70s. Similarly, Alice Cooper was a testament to the prevalence and power of shock rock with a heavy metal influence. Each band on the roster was a pioneer in its subgenre. Their respective legacies have earned a great audience, a loyal and dedicated fanbase that I'm proud to be part of. Four stars out of five!