Concert Review: Iron Maiden – Book Of Souls 2017 Tour

The Summer of 2017 was kicked off with classic metal heavyweights Iron Maiden hitting the road on a worldwide tour, celebrating the recently released album, The Book of Souls. Old school metallers Kamelot and Exodus were special guests for the performance at San Bernadino, CA on July 1st.  Otherwise, the legendary Iron Maiden were accompanied only by Ghost B.C (often simplified to Ghost) throughout their North American leg of the tour. Before this, American rockers Shinedown opened for their European dates.
The desert landscape greeted Iron Maiden with overcast skies and stormy clouds upon their arrival on June 27. Isleta Amphitheater in Albuqurque, NM hosted the musical titans. Hundreds of true metalheads swarmed in, most wearing all black, even in the high desert summer. It was a fantastic crowd, both in size and personality. Everyone was partying with good spirits, and the communal energy was dynamic. Here's a brief recap of this most righteous concert:
Hailing from heavy metal mecca Sweden, Ghost live up to their reputation. Like most metalheads, I fell in love with Ghost's visual appeal when I first saw them on magazine covers, back around 2010. However, their Satanic image belied relatively soft songs, more in line with psychedelic rock and progressive music than with heavy metal. This unusual pairing has grown on me over the years, and I have come to appreciate their musical subtlety, lyrical imagery, and even their sense of humor. Their lead singer, dressed like a blasphemous pope, is known as "Papa Emeritus". Even with a decidedly demonic appearance, he made dirty jokes onstage : "Give someone an orgasm tonight, whether it's yourself or someone else. Hopefully it's both."
As mentioned previously, some bands are so weird that metal is the only genre that will accept them. Ghost's assimilation is aided by their skull make up, inverted crosses, and heretical garments. The influence of early metal bands like Black Sabbath and Blue Oyster Cult is also apparent. With hundreds of New Mexican fans rocking out, banging heads, and even singing along with the lyrics they had memorized, it's clear that Ghost are doing something right.
They had a beautiful cloth backdrop, depicting demons in a gothic stained glass style. However, this prop was no match for howling New Mexico winds, and it was taken down before the show even started. Other than this minor disappointment, their performance was excellent. "Cirice" and "Year Zero" were among their catchy hits. It's already been over a week, and I still have their show opener, "Square Hammer", stuck in my head.
Iron Maiden starred after Ghost's set. Their performance was explosive. The current line up consists of Bassist Steve Harris, drummer Nicko McBrain, with guitarists Dave Murray, Janick Gers, and Adrian Smith. Their most recent release, The Book of Souls, is also their first double album ever. Clocking in over 90 minutes, this was also their longest studio album yet. While the studio album received mixed reviews, their live performance on tour might have won over some fans.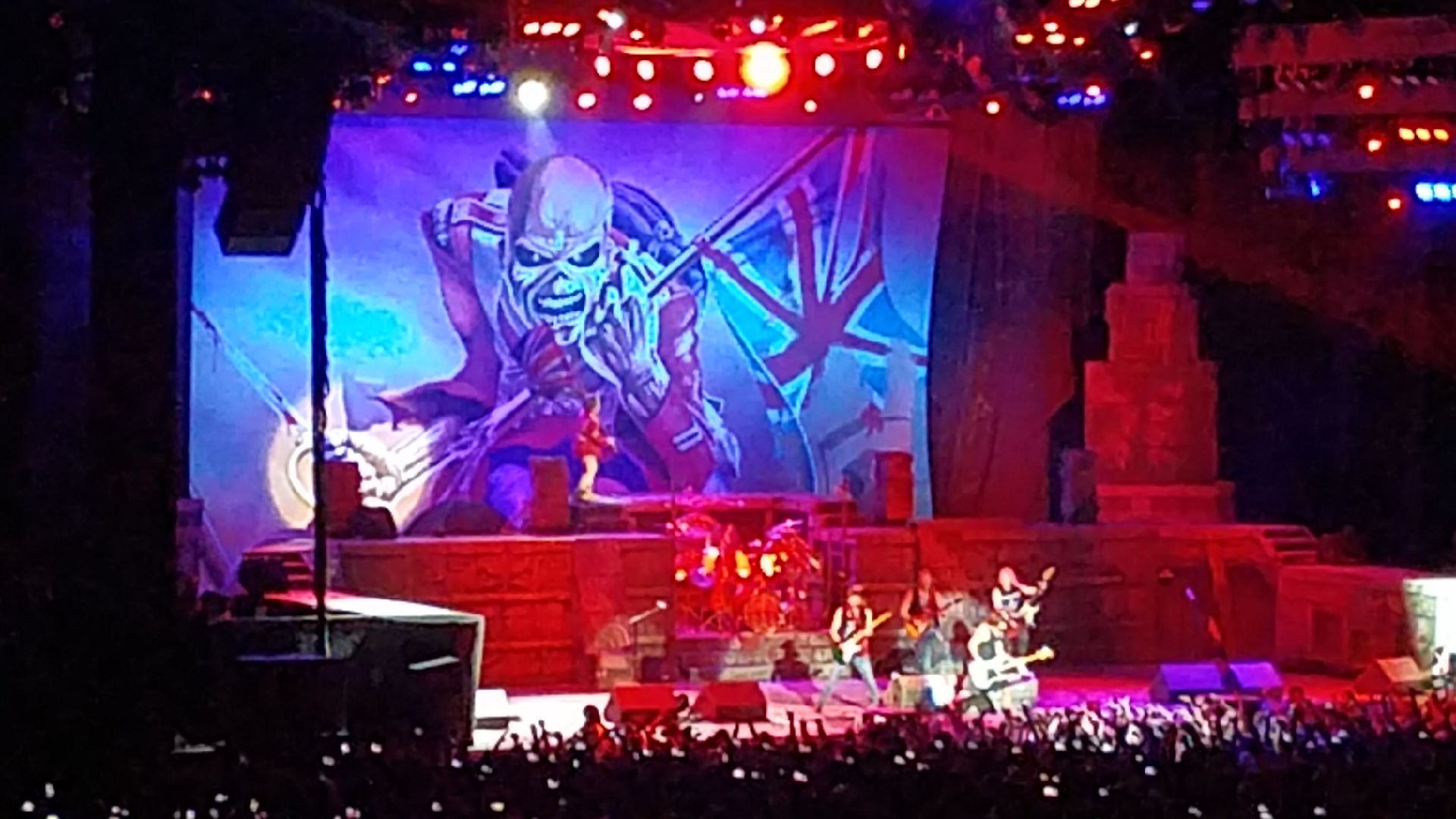 The first track of the album, and of their concert, "If Eternity Should Fail", opens with a Spanish sounding trumpet flourish. This is the foreboding battlecry of bloodthirsty Conquistadors. Born and raised in Southwestern America, where the cruelty of European conquest is imbedded in our violent history, this track hit especially close to home. I'm sure many of the other local fans agree.
"Empire of Clouds" was a long, slow ballad. While most fans preferred this popular track, my favorite song from Book of Souls was "Shadows of the Valley". Admittedly, the chorus is reminiscent of the deep cut "Montsigur", another personal favorite. Even more damning, the riff sounds suspiciously like "Wasted Years", a classic masterpiece which was also played in its entirety in the concert. In fact, "Wasted Years" almost stole the show altogether. The epic chorus was especially satisfying to chant in unison with the audience.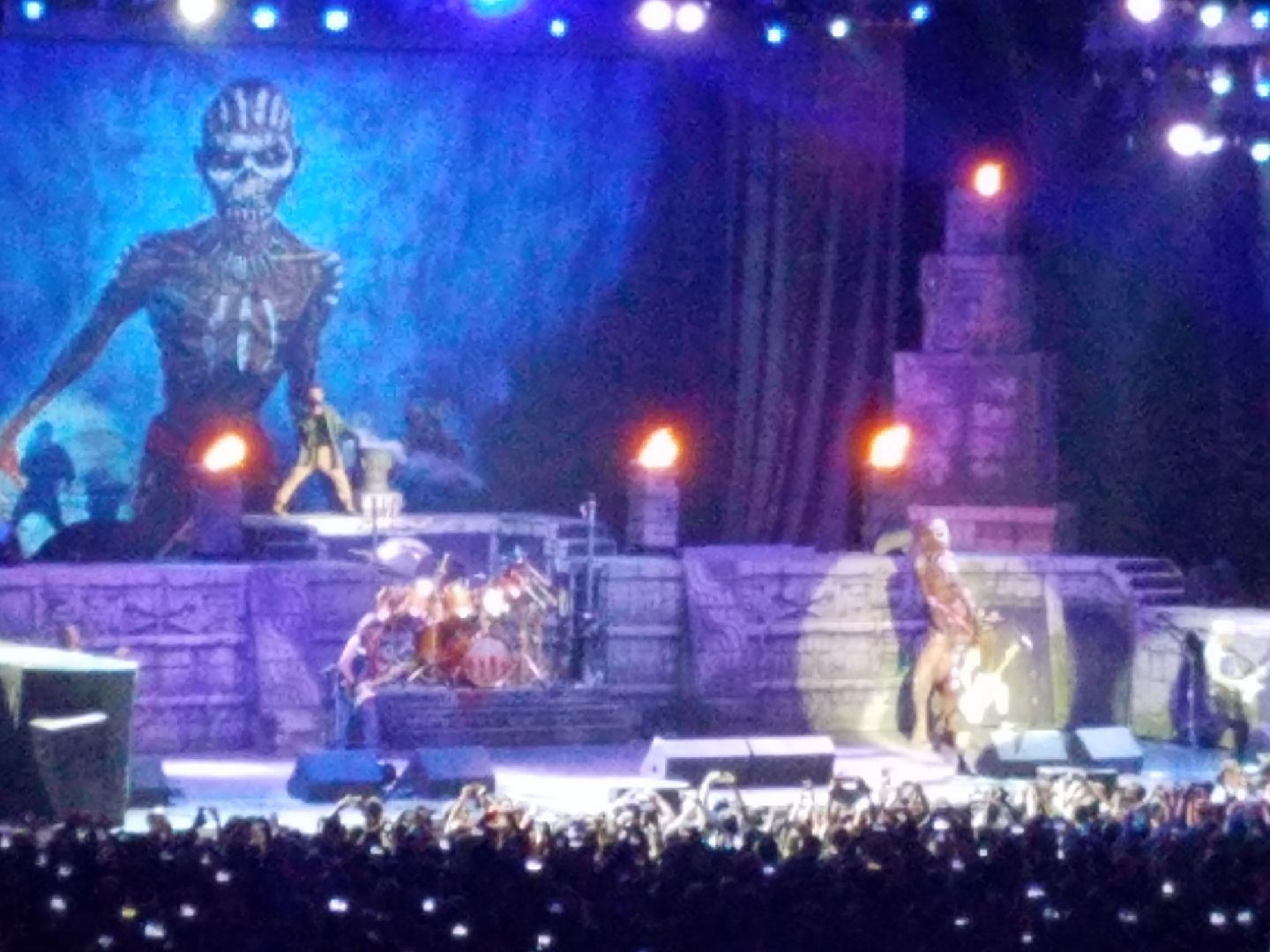 As with Ghost, visuals played a huge role in Iron Maiden's performance. Eddie, the skeleton mascot, was portrayed both by a giant inflatable puppet for parts of the show, and a costumed performer for others. Another impressive prop was a bullheaded man, resembling a Minotaur or the demon Moloch. Ample pyrotechnics, use of screens, and theatrical stage presence made for an otherworldly experience. The band was running and jumping around the stage, even though it was moderately sized. Their energy overflowed into the audience. We all screamed our favorite lyrics in near unison, trying and failing to match Dickinson's impressive range. After all these years, his pitch is still virtually flawless, even after a battle with cancers of both the throat and tongue.
This was an enchanting, captivating performance. Again, you got to love that metalheads have a sense of humor. The band, especially Dickinson, were lively and vibrant, frequently interacting with the audience. Dickinson wore a monkey mask for part of the song "Death or Glory". This was a visual punchline regarding the lyrics "Climb like a monkey, out of hell where I belong." The charismatic vocalist also invited the audience to sing along to "The Red and the Black", performed near the end of their set. He assured us that any idiot could figure out the chorus. As it consisted mostly of "ohs" and "whoahs", he was right. The lead singer also mentioned an incident that happened when they performed in San Antonio, TX, earlier on in the tour. A criminal had been arrested at the show because his own girlfriend implicated him on social media.  Dickinson laughed his ass off while he gave us sage advice to not be dumbasses like those people.
Overall, both bands combined made for a killer show. Even with only two bands, there was enough variety to satisfy metalheads across the board. Throughout the concert, there were enough catchy melodies and trippy visuals to entertain anybody. Each band gave it their all, even in a small city on a Tuesday night. The audience reciprocated this powerful energy, and the result was almost alchemical. Five stars out of five!