Intro:
Full disclosure: I have giant stacks of CDs, and dozens (maybe even hundreds) of starred emails, of albums that I want to review, bands to interview, and other odds and ends. Most of them are recent. Some of them have been on the backburner for a while. But I swear to God and all this holy, I will write about as many of them as humanly possible, damn it! One by one! Or more like five by five. Pentagrams have five points, I rate stuff on a five pentagram scale, and the fractal of sacred geometry and numerology continues thusly.
That's right. I finally sold out and became a normie who writes lists. What's next, a corny Album of the Year post? A cheesy article about Metallica? A cliche rundown of random album covers? A lazy collection of fliers? Bah! Anyway, here is yet another listicle. I hope you enjoy these albums as much as I did.
Iron Maiden – Senjutsu
The melodic power metal stylings of Iron Maiden take a trip to the land of the rising sun, but not for the first time. Remember Maiden Japan? Good times, good times. Bruce Dickinson's voice has matured, as most music professionals can confirm is totally natural. Some things get better with age, and Iron Maiden is certainly one of them.
Iron Maiden are taking a path less traveled, a deeper, slower, more bluesy route. There is occasional fortissimo drum fill, guitar riff, or solo. But for the most part, you could tell that they are taking a slower pace than their signature galloping energy from the 1980's. Homies are in their 60s and still recording and touring. Bruce Dickinson in particular is a true renaissance man, fencer, pilot, author, historian, and professional rockstar. God, I love that man.
The music video for the single, Writing on the Wall is delightfully campy, reminiscent of the classic Heavy Metal movie and magazine. It has a comic book superhero vibe, overflowing with fantasy and sci fi tropes. For example, apocalyptic biker reapers, symbolizing the four horsemen of Armageddon. Eddie the skeleton leads them at the helm. Biblical themes of rapture and eden are also explored. Another music video was made for the track Stratego, animated by Adult Swim. The music video really captured the essence of daydreaming fantastically vivid scenes while listening to epic, cinematic music. The villain was especially awesome, a blend of Darth Vader and a corrupt Shogun. But, ironically, the silver dragon fell flat, even though it was one of the 3D animated elements of the video. It just seemed like clunky 3D rendered objects from the late 90s or early 2000s. Other than that critique, great song and video. Click here for the official album page.
Feed the Corpses to the Pigs – This Insidious Horror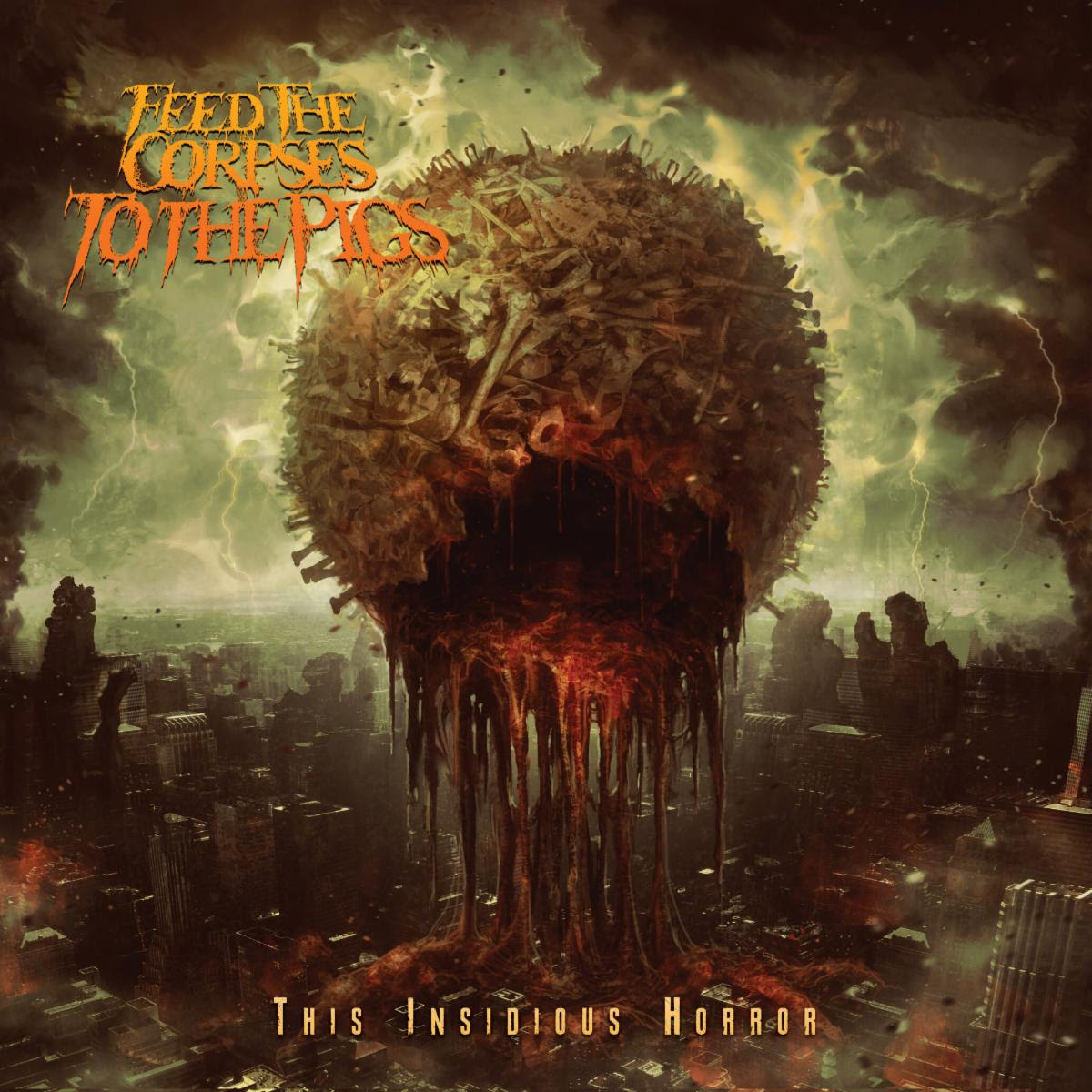 Feed the Corpses to the Pigs are grotesquely grimy and gory. But despite the brutality, damn, those riffs are catchy! Good luck getting those rhythms out of your head now. Total ear worm material! Or should I say, Bot Fly material? Hehe, medical humor. Oh, and don't even get me started on those pick slides and pinches. I always love a high pitched, sonorous guitar tone. It sounds so radical and extreme, like a flashback to classic 80s thrash and death metal. Wicked!
The opening track, Separate, has a certain melodic refrain in the vein of Disposable Heroes by Metallica, but the rest of the song sounds like Cannibal Corpse or Exhumed. The music video is gross but humorous, again, in line with the likes of Cattle Decapitation or St. Victim's. This is especiallly apparent in such tracks as Jesus is My Respirator, I Drink Myself to Death, and This Fucking Horror.
I enjoy the visual punchlines and gross out comedy, a la Prainbork, another piggy themed metal band. (More on that later.) I also appreciate the sound effects. Some passages sound like the psychedelic musical experimentation of the 60's and 70's. Backwards Satanic messages, mayhaps? I wouldn't put it past an awesome band like this! Another great example of sound effects is the track Drink Myself To Death, with the noise of a glugging bottle of liquor, as a drink is poured into a glass. A sound some of us are all too familiar with. *shudder*. Get your copy here!
Darkening Skies – Jump Off The Bridge… And Live!!!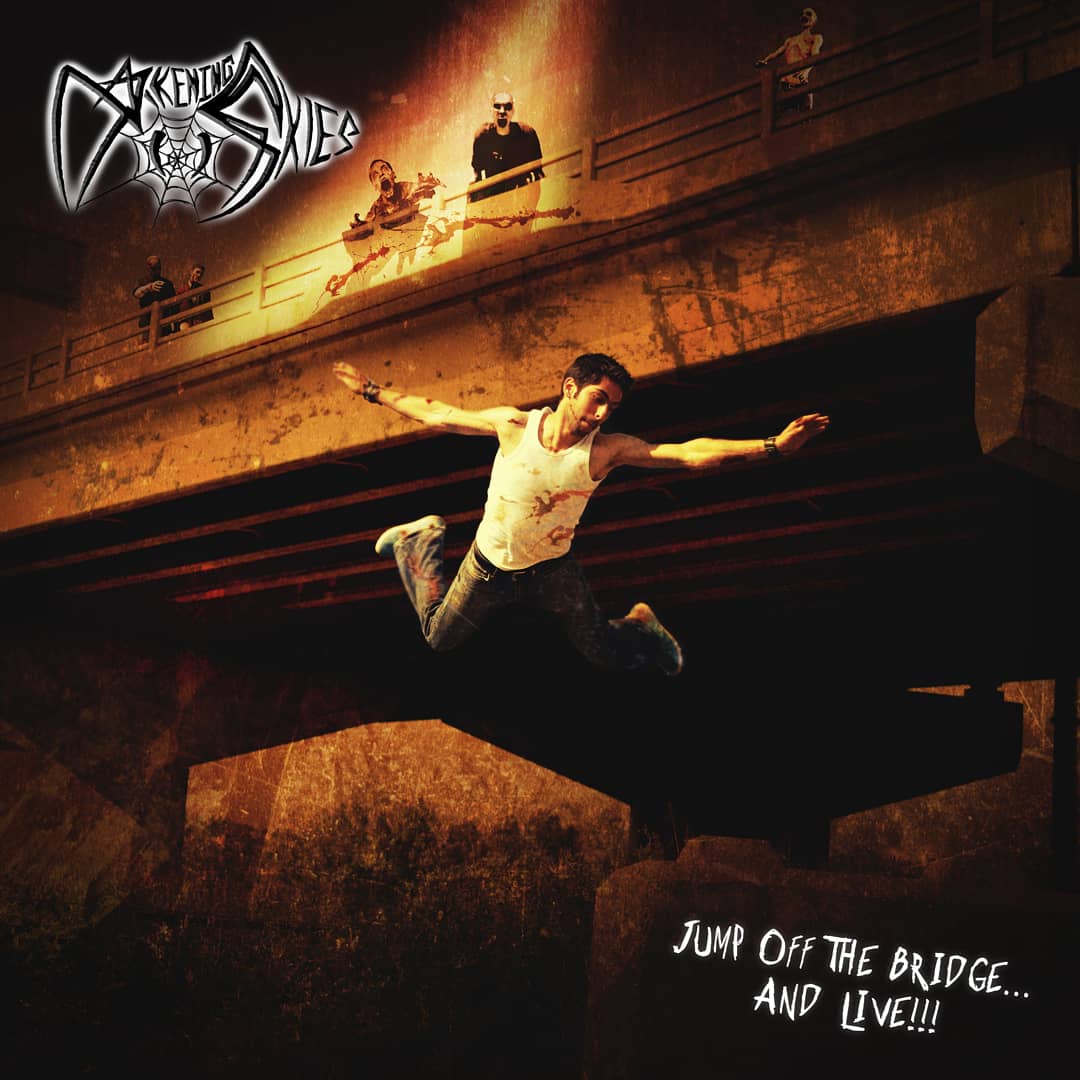 Ah, yes! This reminds me of one of my classic gutterpunk catch phrases: "Fuck off and live!" instead of "Fuck off and die!" Get it? Because life is an even greater curse than death!? This sentiment is also expressed by other bands, like Doomed to Exist or Destroy To Recreate. But Darkening Skies are brutally nihilistic in their own right.
Something about this band reminds me of Colossal Swan Dive. Could it be the similar connotations of diving, and jumping off a bridge? Perhaps the illustrative album art portaying such? The wicked weedley waa guitars? Again, don't even get me started! I will straight up become a shameless fangirl for some whiny guitar tones. Not to mention that noodly bass! This EP is short, but sure packs a punch! Just like your truly.
And again, like FTCTTP, the visual appeal is part of the overall aesthetic of the band. I love the spiderweb logo with fang details. And they also have a hardore thrashy edge like High Octane Hell Ride. This band has all the right pieces: The sights, the sounds, and the attitude of heavy metal. No wonder they recently signed with Jib Machine Records. You can also stream the album on Youtube!
Prainbork – Instrumentals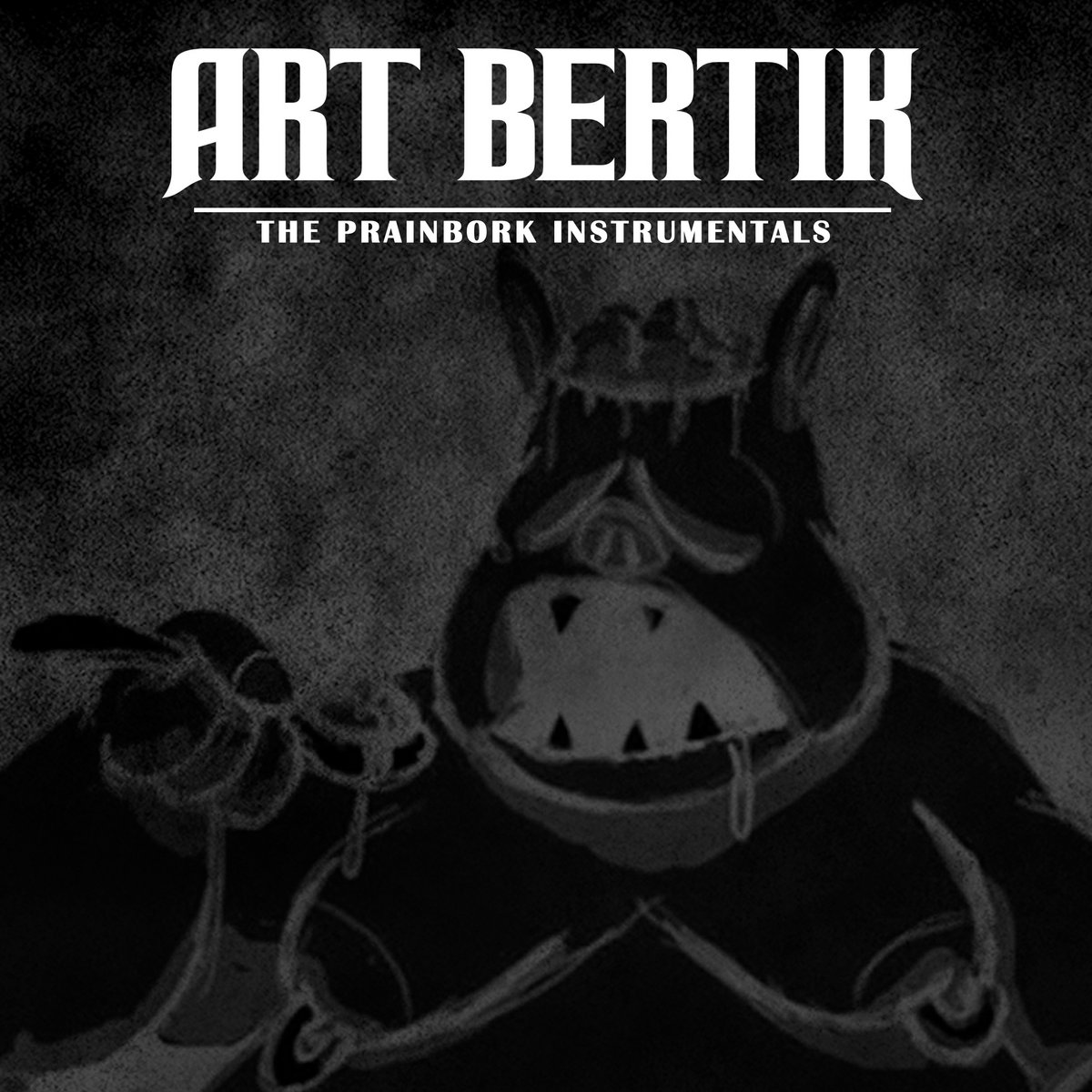 Art Bertik is a weirdo in the best way possible. He's extremely smart, professional, and intelligent, but he's also fucking bonkers. I guess you could say he's a wrench short of a baker's dozen. Speaking of which, Prainbork was a collaborative project with Darbie Thundercleese and Manic Merganser. The creepy artwork is a black and white version of one of the more colorful and comical designs of earlier years. It deviates from the cartoony origins of Prainbork, but it fits the darker tone of the isolated guitar tracks.
I'm getting heavy Primus vibes. The instrumentation is surprisingly technical and complex, despite the goofy aesthetic. I'm also picking up on Dillinger Escape Plan and Electrocution 250. The extreme cartoonish style is part of the appeal. Prainbork is so complicated, in fact, that even the instrumentals alone are strong enough to hold their own ground. And that's exactly what this album is. Get it here.

High Octane Hell Ride – The Day I Made God Cry
Ok, this isn't exactly a new release. It's, uhh, vintage. Yeah, that's it. I recently procured this cult classic from a heavy metal garage sale, so it's new to ME, and since I'm the center of the universe, that's all that matters. Good thing that time is an illusion and we're all gonna die anyway. This album is so old -er, vintage- that its primary online presence, according to the CD, was freaking Myspace. Remember when Myspace still rocked? And everyone had playlists of Psyopus, Escape the Fate, Fields of Elysium, This Day's Light, and Grinkai? Ah, those were the days. Or you can also check it out on ReverbNation. That's cool too.

HOHR are faster than hell, sounding like a blend of black metal and hardcore punk. And the bass lines are otherworldly! This music is as funky and syncopated as the most technical of all deathcore. It sounds like a fleet of UFO spaceships on an evil alien invasion mission. Featuring former members of Same Day Surgery, Knowital, Stone Deep, and Logical Nonsense, this band exemplifies the rowdy rockers of Santa Fe in the early 2000s. The time and place is evoked perfectly by the aggressive, angry, hateful music. Hell yeah!
If this album slipped under your radar, it's never too late to discover it now. It's a total blast from the past, but it would also fit in with modern metal, punk, and hardcore like Power Trip, Gaza, and Hatebreed. Find them on Facebook.
Outro:
Welp, these were five albums that stood out to me in August 2021. And they are also great additions to the list of hilarious acronyms! (Use your imagination. There's probably a dirty joke or 2 in there somewhere.) But all jokes aside, these albums were fitting for the chaos of life in these crazy times. Check them out; you just might find a new favorite!